I envied the arrogant when I saw the prosperity of the wicked. ... Pride is their necklace; a garment of violence covers them. From their prosperity proceeds iniquity; the imaginations of their hearts run wild. They mock and speak with malice; with arrogance they threaten oppression. They set their mouths against the heavens, and their tongues strut across the earth.
- Psalm 73
This week's featured posts is "Don't just connect the dots". It sets the Biden impeachment in a larger context of conspiracy theory reasoning.
This week everybody was talking about the looming government shutdown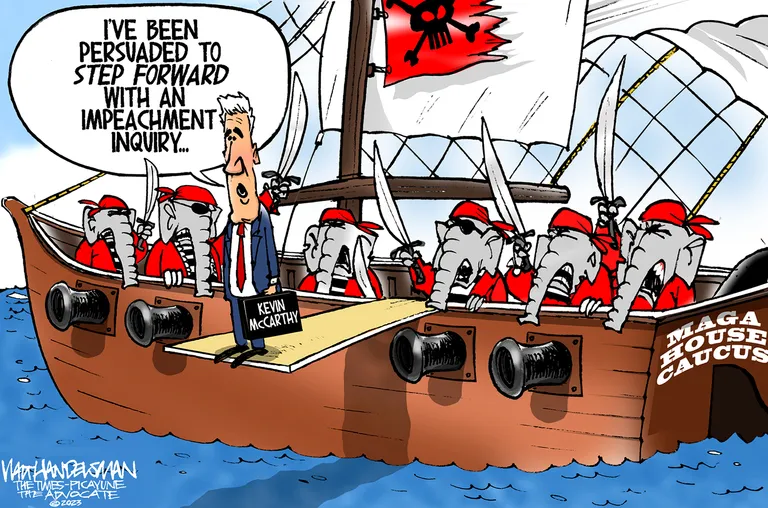 As always, the federal government's fiscal year ends on September 30, i.e. a week from Saturday. So unless Congress passes and President Biden signs some new appropriation bills in the next two weeks, the government will shut down on Monday morning, October 2.
If the budget process were working the way it's designed, funding the government would mean passing 12 separate appropriation bills, each covering some set of government activities, like defense. That seems extremely unlikely at this point. The Senate is more-or-less on track, but Kevin McCarthy's Republican majority in the House can't unite on a set of proposals, much less get together with the Senate and work out something both houses can pass.
Failing at 12 appropriation bills, the next option is one big omnibus bill, which has happened in recent years, and which House Republicans have been railing against. That doesn't seem very likely at the moment either.
The third option is a continuing resolution, which allows the government to keep spending money at the same rate as last year, until Congress can get its act together to pass an omnibus. Currently, Kevin McCarthy is trying (and mostly failing) to build support for a continuing resolution.
The far-Right "Freedom" Caucus has made a series of demands for what any continuing resolutions would have to include, such as ending the Trump prosecutions. (Anything to avoid a trial in front of a jury, which would see the evidence and find Trump guilty.)
So we seem headed for a shutdown. The main issue in the shutdown is whether or not McCarthy will fulfill the deal he made with Biden in May to resolve the debt ceiling crisis. The "Freedom" Caucus thinks the spending targets in that deal are too high, so they want to renege.
---
When McCarthy agreed to open an impeachment inquiry targeting President Biden (without any evidence of wrongdoing), some speculated that he had bought himself credit with the far Right, which would give him some room to maneuver on the spending bills. But, as CNN analyst Stephen Collinson observed, "That narrative barely lasted a day." Apparently any concession these people get only whets their appetite for more.
and Ken Paxton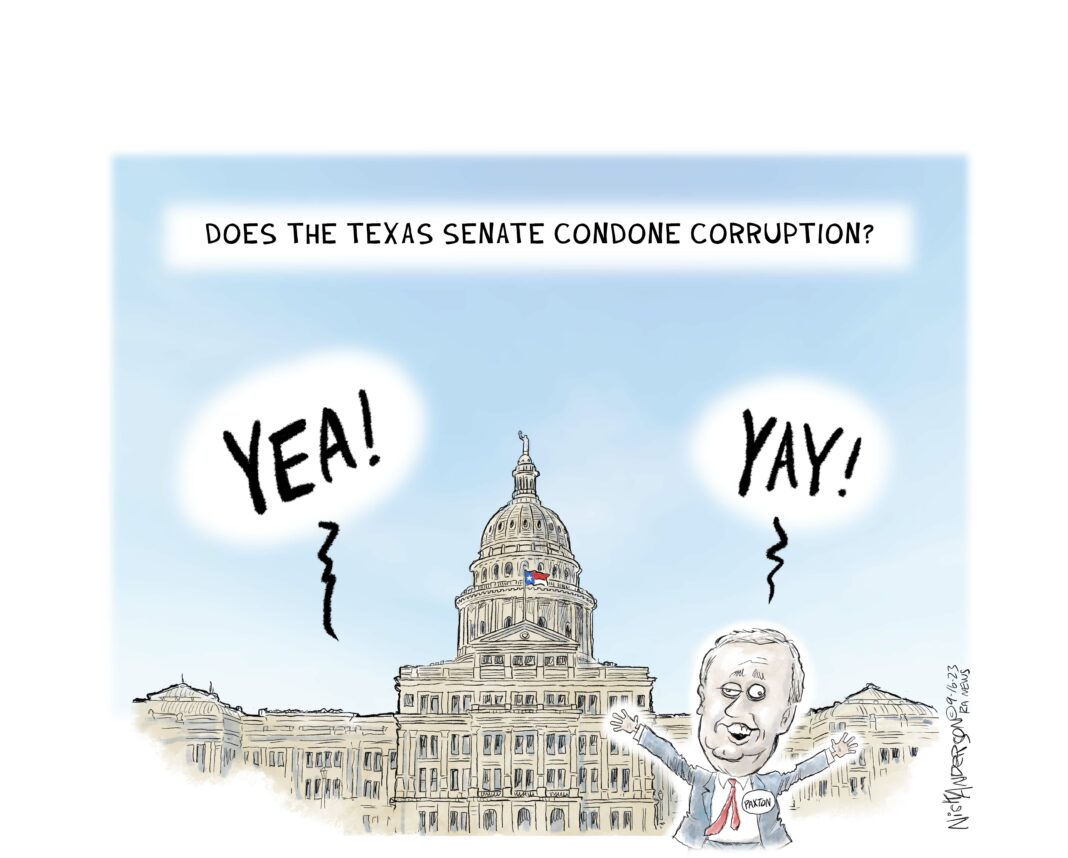 Ken Paxton is the corrupt attorney general of Texas.
Even in the long, sordid history of Texas political scandals, Paxton stands out. The accusations leveled against him in 21 years of public life ranged from felonious to farcical: that he duped investors to whom he sold stock, profited from inside information on a land deal, made false claims in court about the 2020 presidential election, and purloined another lawyer's expensive pen.

Other episodes gave grist to criticism that Paxton considered himself above the law, like when he fled his home last year, in a truck driven by his wife, to avoid being served a subpoena.
In March, the Republican Texas House overwhelmingly voted to impeach him on 16 counts, with 70% of Republicans voting against him. But Saturday, only 2 of 19 Republican senators voted to convict on any charge, and so he was acquitted and returns to office.
What changed? The politics, not the evidence. National Republican groups stirred up the grass roots.
It was made clear to Texas GOP senators that they'd face a very well-funded primary opponent in their next election if they voted to impeach.
"Christian" organizer Nate Fischer argues
I judge politicians on their effectiveness against the left. In an existential war, you do not remove an effective officer—much less cede his position to the enemy—because an affair or gambling problem comes to light. We are in a war for our civilization. Paxton and Boebert have been effective in important battles. But if God could use Samson as his instrument to deliver Israel, I'm skeptical of calls to toss one of our fighters out because he doesn't meet some standard of conduct that is anything but a uniform rule across the political aisle.
And of course, any conspiracy-theory allegation against a Democrat is evidence that no standard of conduct is "a uniform rule across the political aisle". So this "Christian" applies no moral standards at all to the conservatives he supports.
Matt Yglesias responds:
This is how corrupt people use culture war hysteria to bait you into sacrificing your interests to advance theirs; it's the ultimate logic of Trumpism — he may be a thief, a liar, and a scumbag but at least he's *our* scumbag.
the Hunter Biden indictment
Hunter was indicted on federal firearms charges Thursday. You'd think this would settle questions about the independence of the Justice Department from White House interference, but no.
Hunter could wind up at the center of a legal question that cuts across partisan lines. A federal appeals court representing a different district has found that the law he's accused of violating conflicts with new Supreme Court precedents and so is unconstitutional. So people on all sides have to ask themselves what's more important: getting/saving Hunter or gutting/preserving federal gun laws?
and the Trump interviews
Two female journalists did televised interviews with Donald Trump recently: Kristen Welker, as her inaugural broadcast as host of Meet the Press, and Megyn Kelly on her XM Radio show.
It's hard to say what the point of doing either interview was. Conde Nast Legal Affairs Editor Luke Zaleski summarizes the problem:
Trump doesn't do interviews. He tells long fake stories that provide an alternate reality in which he's the hero and allow his audience to conflate themselves with him as he pretends to vanquish imaginary enemies like "Sleepy Joe" "Crooked Hillary" "the Deep State" & "Fake News"
The traditional power of the press comes from its ability to publicly shame a politician for lying or hypocrisy. But Trump has no shame. NYU journalism Professor Jay Rosen describes Welker's approach as "zero innovation", meaning that she treated Trump like a typical, shameable public figure.
Everything was predictable, nothing was surprising, and new host Kristen Welker did nothing to justify going to the well again with another Trump Q & A.
So Trump got a platform to spread his usual disinformation, and NBC got to publish a separate fact check, which (as we know) accomplishes little. Unlike a Cronkite-era politician, Trump is not shamed to be caught lying, and his cultists will brush off any fact-checking as "fake news". Worse, traditional fact-checking is meant for correcting simple lies and misstatements. It can't cope with a complete alternate reality.
"Pinning Trump down", as Welker did when she got him to say he would testify under oath that he never ordered a subordinate at Mar-a-Lago to delete security video, is also useless. Making that statement serves Trump's purposes now -- it makes him sound determined and resolute -- but when Trump does not testify at all in any of his trials, he will not feel shame for having said that he would.
The end result of this interview is that viewers are more poorly informed about Trump-related issues than they were before they watched. I have to agree with Rosen's conclusion:
I would love to hear what [MSNBC's Rachel Maddow] thought about NBC's interview with Trump. She is the one who said on air: "There's a cost to us as a news organization of knowingly broadcasting untrue things." NBC willingly paid that cost today.
Tonight we'll see a test of Maddow's integrity: Will she call out her sister network?
---
Welker also asked Trump: "Is there any scenario by which you would seek a third term in office?" In other words, "Do you intend to ignore the Constitution?"
Trump said "No." But again, he's not going to feel bound by that answer, so what's the point of asking? All Welker did was put into viewers' minds the idea that seeking a third term (in defiance of the Constitution) is an option.
---
One upside of Kelly's interview is that Trump said some things that Jack Smith will probably use against him in court.
I'm allowed to take these documents, classified or not classified. And frankly, when I have them, they become unclassified.
Aside from being nonsense legally, Trump's statement sounds an awful lot like a confession that he did take classified documents.
---
It's a mystery to me why Biden's mental capabilities are being questioned, but not Trump's. There could be a story like this every day:
Trump says Joe Biden is "cognitively impaired" and then accuses him of getting us into World War TWO.
Or consider this part of the Welker interview:
You talk about Kim Jong Un, right? I got along great with Kim Jong Un after the first month or two when we were sparring. But I got along great with him. We were in no danger. There was — President Biden said, and he felt even now, and President Obama told me when we sat down, Obama told me, and Biden still to this day, except I don't think he knows, he's only — he can't put two sentences together. But President Obama told me, "Our biggest threat is from North Korea. We're going to end up in a war."
Yep. It's Biden who can't put two sentences together.
David Roberts raises a worthwhile question:
How would we even know if Trump's age was affecting his mental acuity? He's done nothing but ramble sub-literate nonsense since he came on the public stage. Could you even tell if he got dementia?
and Mitt Romney
I've always been of two minds about Mitt Romney, an ambivalence that comes through in "The Tragedy of Mitt Romney" which I posted during his primary campaign way back in 2012. At his best, Mitt is a conservative version of Joe Biden: a basically decent person who can listen to members of the other party, define common goals, and occasionally get something important done. RomneyCare, the Massachusetts health insurance program that became the model for ObamaCare, is a prime example.
Mitt's tragic flaw is that he's never had quite enough courage to be that person consistently. So he's been a truth-teller, but only sometimes. Other times, he has pandered to the worst elements in his party. Two examples stand out: His 2012 presidential campaign ran away from his record as governor of Massachusetts, to the point of promising to repeal the same ObamaCare his program had inspired. And he bowed down to Trump during the 2016 transition, hoping to become secretary of state.
This week he announced that he's not running for reelection in 2024. As a result, he is free from future political considerations and can be a truth-teller again. And so we have "What Mitt Romney Saw in the Senate", a preview of an upcoming biography by McKay Coppins. The biography comes from long conversations with Romney, as well as access to his papers and journals.
And so we find out:
The Republican Senate caucus gave Trump a standing ovation, and then laughed at him after he left.
"A very large portion of my party really doesn't believe in the Constitution."
During Trump's first impeachment, Mitch McConnell told Romney: "You're lucky. You can say the things that we all think. You're in a position to say things about him that we all agree with but can't say."
"No one has been more loyal, more willing to smile when he saw absurdities, more willing to ascribe God's will to things that were ungodly than Mike Pence."
Some Republicans wanted to vote for Trump's second impeachment or conviction, but were intimidated by the prospect of right-wing violence against themselves and their families. At that time, Romney was paying $5K a day for security.
In return for this openness, Romney is being lauded as a man of principle and integrity. And he has been, up to a point and some of the time.
You know what I long for? Republicans who not only speak out against the MAGA usurpation of their party, but take that message to the voters rather than meekly slip out the Capitol's side door like Romney and Jeff Flake and Lamar Alexander. Maybe such a race is hopeless -- it was for Liz Cheney -- but people of real principle would make a charge-of-the-light-brigade anyway. To paraphrase the MAGA god himself: If you don't fight like hell, you're not going to have a party anymore.
and you also might be interested in ...
Climate Change summer is continuing as we approach fall. The worst catastrophes happen when natural disasters cause failures in human infrastructure.
More than 5,000 people are presumed dead and 10,000 missing after heavy rains in northeastern Libya caused two dams to collapse, surging more water into already inundated areas.
Meanwhile, Hurricane Lee spent most of its energy over the Atlantic, but was just 4-mph short of hurricane status when it hit Nova Scotia Saturday. Places like Halifax and Bar Harbor, Maine don't usually have to worry about tropical storms.
---
The United Auto Workers are striking against the Big Three American automakers. The Atlantic explains that this is about more than just the usual wages and benefits: Government-subsidized investments in electric vehicle plants are being used to shift production to states that make it hard for workers to unionize.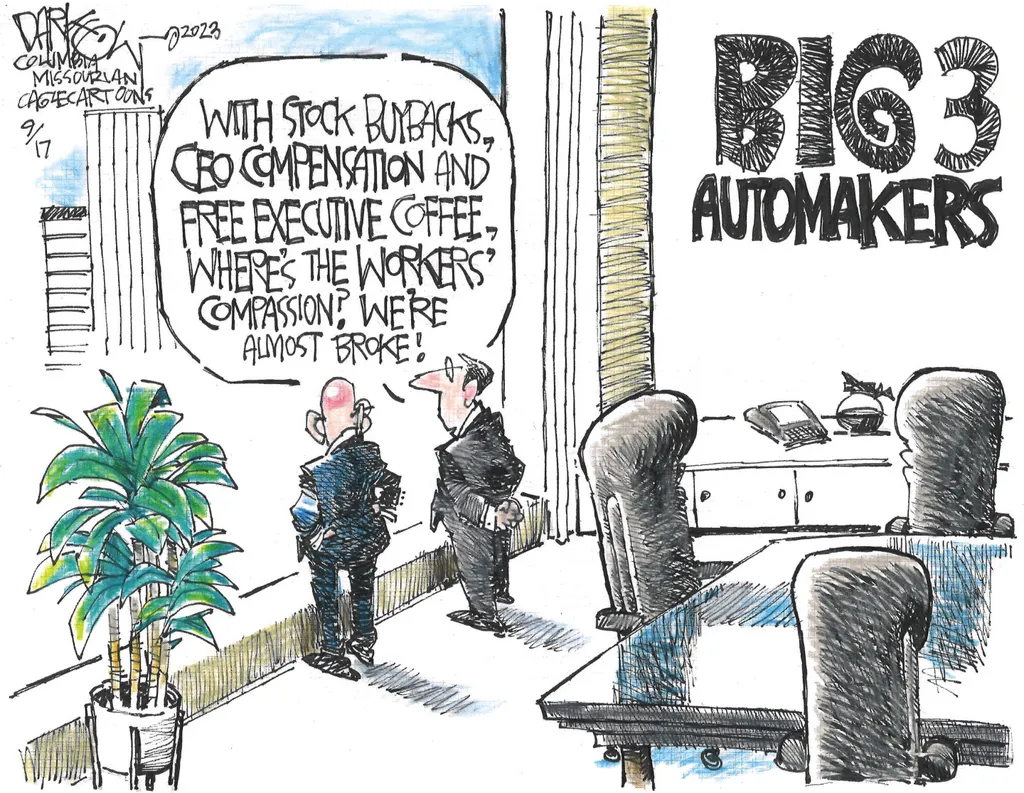 ---
As you may have heard, Saturday night Rep. Lauren Boebert was escorted out of a production of the musical "Beetlejuice" for vaping, taking flash pictures of the performance, and "creating a disturbance". Afterwards, she denied vaping, said she didn't realize she couldn't take pictures, and admitted "laughing and singing too loud". Unfortunately for her, the vaping is on video, along with some mutual groping with her date (Boebert's divorce is still pending), as well as Boebert giving theater employees the finger on her way out the door.
In response to the clear evidence that her denial was a lie, Boebert apologized for the vaping (claiming she "genuinely did not recall" doing it), but did not comment on the public groping.
The incident provoked a stream of what-if comparisons on social media: How would conservative politicians and media personalities erupt if some prominent liberal woman like AOC behaved the same way? Or a woman of color? Or a gay or lesbian politician with a same-sex date? What if Biden did something inappropriate in public, denied it, and then explained away his denial by claiming he didn't remember?
Who better to comment on Boebert's "trashy" behavior than fellow "trash monster" Trae Crowder? Boebert's "vaping and hollering stuff" in the theater doesn't alarm him:
My fellow Trailer Americans, I ask you: Who among us? Right? I mean, we do that. We do. Get a little too excited at a public event, start cussing in front of the 8-year-olds, then act indignant when the bouncer shows up. "Oh, what? Is it illegal to have a good time now?"
What's wrong with Boebert, according to Crowder, isn't that she comes from the underclass, because "some of the most genuine, kindest, most empathetic people I've ever known were trailer babies". We'd do well, he says, to have a Congress full of such people. But Boebert is a "ladder-puller", who tries "to take away the same government benefit programs that kept her alive as a child".
Boebert ... somehow took all the wrong lessons away from her life and now spends her time spewing misplaced rage and making us all look bad.
BTW: If you want a view of how the world looks to the White rural underclass, I can recommend this year's Pulitzer-Prize-winning novel Demon Copperhead by Barbara Kingsolver.
---
While we're talking about the Party of Family Values, The New York Post claims South Dakota Governor (and rumored Trump VP candidate) Kristi Noem has been having an affair with former Trump advisor Corey Lewandowski. Both are married. All together, the two couples have seven children.
---
Remember Kim Davis, the county clerk in Kentucky who refused to issue marriage licenses for same-sex couples back in 2015? That case is still percolating through the system. Two couples sued her for damages, and a judge ruled in March 2022 that she had violated their rights. Wednesday, a jury awarded one couple $100K and the other nothing. (I'm not sure what distinction the jury saw between the two couples.)
Davis plans to appeal, on grounds that the current Supreme Court might find tempting:
We will argue religious accommodation under the First Amendment, and other state and federal laws. We will also argue that Obergefell v. Hodges was wrongly decided and should be overturned.
She previously had moved to have her case dismissed, on the grounds that she had immunity for acts performed in her official capacity. But the plaintiffs argued that official immunity doesn't apply when the official is doing something clearly outside the law. An appellate court refused to dismiss, and in 2020 the Supreme Court decided not to hear her appeal. But this time around could be different, if the current Court is looking for an opportunity to reverse Obergefell.
---
Two thousand South African rhinos are looking for new homes.
---
A line too good not to repeat: After Mitch McConnell froze up a couple weeks ago, fellow Kentucky Senator Rand Paul was not all that supportive. Among other comments, he disputed the Capitol doctor's claim that McConnell had not suffered a seizure, but only the effects of concussion recovery and dehydration.
Afterwards I heard a comment that Rand Paul is "nasty and brutish and short".
and let's close with something sentimental
In 1950, Oswald Laurence recorded a message telling patrons of the London underground to "mind the gap". After Laurence died in 2003, his widow Margaret McCollum began going to the nearby Embankment tube station whenever she wanted to hear his voice.
Eventually, though, the transport company replaced Laurence's recording with an artificially generated voice. Margaret then asked the company for a recording. But they did her one better: They restored Laurence's announcement for exactly one station, Embankment.